A Guide On How To Clean Your Garden Furniture
Is there anything worse than investing in some lovely garden furniture, only to find that when you come to use it after it being in hibernation over the colder months, it hasn't weathered well?
If you haven't paid your garden furniture a little bit of attention, you may find that you're noticing mould and other elements that weren't there before, and in turn are having to try and do a restore job! At St Peters Garden Centre, we wanted to help you avoid damage to your garden furniture, and give you some tips on how to restore your furniture if it is in need of some TLC.
Here's our simple, step-by-step guide on how to clean your garden furniture, and how to keep it looking as good as new. Whether it's wooden, metal or plastic, we've got you covered. We've even included some of our top tips!
How To Restore & Clean Wooden Garden Furniture
Wooden garden furniture is quite simple to prepare and clean, with the main focus being on using a classic soapy water to help initially. Preparation is key with this type of furniture, so make sure you take some time before starting the clean. There are a number of products you could use to help, and we've listed some of our favourites.
How do you prepare your wooden garden furniture?
Remove any noticeable debris
Sand the furniture if needed
Use a hose to rinse away any loose dirt (don't use a power washer)
How do you clean your wooden garden furniture?
Use soapy water, a hard bristle scrubber and a cloth

Use recommended garden furniture cleaner, such as:
Cuprinol garden furniture cleaner
Cif garden furniture cleaner
HG garden furniture cleaner
Liberon garden furniture cleaner

How To Clean Metal Garden Furniture
Metal garden furniture is all about little and often – if you can manage to stay on top of cleaning this type of furniture frequently, you will reap the benefits, and avoid the dreaded R word (rust!) when you come to use it. With little preparation and a simple cleaning method, keeping your metal garden furniture looking A-OK should be quite simple.
How do you prepare your metal garden furniture?
Remove debris
Cover during winter months
How do you clean your metal garden furniture?
Wash the furniture frequently and remove scuff marks with a soft cloth, dampened with a non-abrasive cleaning product.
Combat rust by having a go at sanding it off, along with removing any damaged paint.
Wipe off metal residue with a cloth dampened with mineral spirits or naphtha.
Use a rust-resistant primer before painting with rust-resistant paint.
If you do find some rust, The Pink Stuff is known to be great for combatting any hard stains
How To Clean Plastic Outdoor Furniture
Plastic furniture doesn't need much prep work, the main focus needs to be on the clean. There are a number of options, depending on how big the job at hand is. All of our suggestions are homemade, however please avoid using any bleach products!
How do you clean your plastic furniture?
Make your own mild cleanser by mixing half a cup of baking soda with around five litres of warm water.
For tougher stains, mix three tablespoons of dishwasher detergent (which contains a very mild bleaching agent) and around five litres of warm water.

For coloured plastic, mix a quarter cup of vinegar with one litre of warm water.

It's best to avoid using chlorine and bleach on white plastic furniture, because they eat away at the material. If you do need to clean your white plastic furniture, stick to the methods above.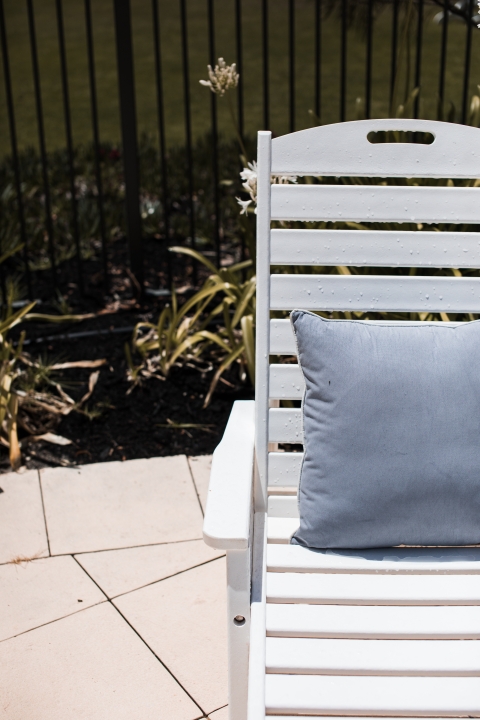 Our Final Top Tips
Cover it up – parasols and gazebos are really useful to protect your furniture when it's not in use. Need some inspiration? We have a wide variety of parasols and gazebos available.

Keep it clean – if you spot a dirty patch, try and sort it. Clean your furniture when you see that it needs some attention, and it'll thank you in the long run.

Steer clear from pressure washers – as handy as they might be, try and avoid using a pressure washer for cleaning your outdoor furniture, as they will probably cause more damage than good. Try a garden hose instead.

Protect yourself – always remember to wear protective gloves when cleaning your garden furniture (no matter if the job is big or small).

Visit us – we have a number of products in store that will help you with cleaning your furniture, or if you just fancy treating yourself to a new set, we also have some fantastic garden furniture available.