Welcome to The Potting Shed Restaurant
We are delighted to confirm that we are open for outdoor hospitality. Serving our outdoor take away menu Monday to Sunday until May 17th 2021.
Outdoor seating is available on our patio and open air marquee on a first come first serve basis, please be prepared and wrap up warm if the weather takes a turn.
Please take a look at our outdoor take away Menu below, from artisan coffee , cakes to hot food we certainly have something tasty for everyone to enjoy.
We look forward to welcoming you all back to our restaurant.
The Potting Shed Team
Full Takeaway operation with limited food menu.
Outdoor seating only, Rule of Six applies, Patio available for customers. Social distancing rules apply.
Monday to Sunday 9am to 3pm with lunch time specials 11.30am to 3pm. Last orders 2.50pm.
Order from Barista Bar only with food delivered to patio tables with an order number if seating outside on our patio terrace.
Maximum of 90mins per table. No booking required. Strictly take out only.
Drinks and cakes available Monday to Saturday 9am-5pm / Sundays 10am-4pm
Subject to change based on the government guidelines.
Take Away Afternoon Tea
Enjoy one of our famous Takeaway afternoon tea's for two. You have the choice of sweet or savoury, both lovingly served in our easy takeaway boxes. A perfect treat for anyone.
When we are at Full Table Service
Breakfast
Our breakfast menu - Coming Soon!!!
Lunch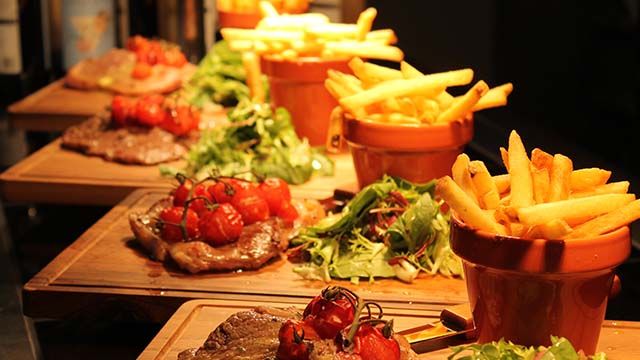 Our lunch menu Coming Soon!!!
SUNDAY LUNCH
Come and enjoy our delicious Sunday Roast. We offer full table service for you to relax and enjoy the food. (Not Available until 17th May)
OUR COFFEE ETHOS
We believe in great hand-crafted artisan coffee using the freshest single origin beans, roasted to perfection each day by Yallah Coffee Roasters.
We work closely alongside our Roasters to ensure quality in our beans to deliver many flavours and to give you the best experience from our coffees every time.
Our Baristas are highly trained and use the best tools on the market to handcraft our coffees following a rigorous daily dialling in process to get that perfect Ristretto every day.
CAKES
Over the last 20 years its fair to say we have built up a reputation as having the most wonderful Homemade cakes around. All this is due to our amazing pastry chef Nicky. She makes all our cakes from scratch and you can only imagine how many she has to make per week. Everyday there is wide selection of fresh cakes, traybakes and not forgetting the amazing fruit and cheese scones. Come and visit us today for a taste and judge for yourself how good they are.