Compact 57cm Charcoal bbq
Compact 57cm Charcoal bbq
Wish to know when this product is in stock? Leave your email here to get notified.
CLICK & COLLECT

LOCAL DELIVERY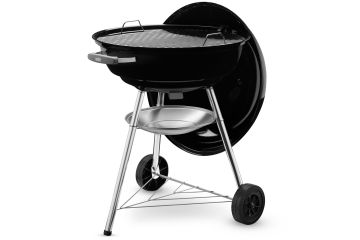 Compact 57cm Charcoal bbq
Whether sizzling hot dogs, assembling unique skewers, or roasting tender chops. It starts with taking the first step, and opening up a world of barbecuing with the Compact charcoal barbecue. Discover the taste that you'll soon be longing for.
Key Features:
PLATED STEEL COOKING GRATE 57CM
HEAVY-GAUGE STEEL FUEL GRATE
PORCELAIN-ENAMELLED BOWL AND LID
BOTTOM WIRE RACK
LID HANDLE WITH HEAT SHIELD
ANGLED LID HOOK INSIDE BARBECUE LID
REMOVABLE, ALUMINIUM ASH CATCHER
BRIQUETTE MEASURING CUP
EAN code

077924002335

Brand
Write a review about "Compact 57cm Charcoal bbq"
We want to know your opinion! Write a review about the product "Compact 57cm Charcoal bbq" and win a National Gardening Gift Voucher of £25 !
Local Delivery Postcodes and Costs
Currently, there is around a 3 day waiting time for local delivery.
| | | | |
| --- | --- | --- | --- |
| WR5 | 1,2,3 | Worcester | £5 |
| WR2 | 4,5,6 | Worcester | £10 |
| WR3 | 7,8 | Worcester | £10 |
| WR4 | 0 | Worcester | £10 |
| WR6 | 5,6 | Worcester | £10 |
| WR8 | 9,10 | Worcester | £10 |
| HR8 | 1,2 | Ledbury | £20 |
| WR10 | 1,2,3 | Pershore | £20 |
| WR11 | 2,3,4 | Evesham | £20 |
| WR12 | 7 | Broadway | £20 |
| WR13 | 5 | Malvern | £20 |
| WR9 | 7,0 | Droitwich | £20 |
| B96 | ALL | Redditch | £30 |
| B97 | ALL | Redditch | £30 |
| B98 | ALL | Redditch | £30 |
| GL18 | ALL | Gloucester | £30 |
| GL19 | ALL | Gloucester | £30 |
| GL2 | ALL | Gloucester | £30 |
| GL20 | ALL | Gloucester | £30 |
| GL3 | ALL | Gloucester | £30 |
| GL4 | ALL | Gloucester | £30 |
| GL51 | ALL | Cheltenham | £30 |
| GL52 | ALL | Cheltenham | £30 |
| GL54 | 5 | Cheltenham | £30 |
| HR7 | ALL | Bromyard | £30 |
| WR15 | 8 | Tenbury Wells | £30 |
| B49 | ALL | Alcester | £40 |
| B60 | ALL | Bromsgrove | £40 |
| B61 | ALL | Bromsgrove | £40 |
| B62 | ALL | Hagley | £40 |
| B62 | ALL | Halesowen | £40 |
| B90 | ALL | Solihull | £40 |
| B91 | ALL | Solihull | £40 |
| B92 | ALL | Solihull | £40 |
| B93 | ALL | Solihull | £40 |
| B94 | ALL | Solihull | £40 |
| CV32 | ALL | Warwick | £40 |
| CV33 | ALL | Warwick | £40 |
| CV34 | ALL | Warwick | £40 |
| CV35 | ALL | Warwick | £40 |
| CV37 | ALL | Stratford Upon Avon | £40 |
| DY10 | ALL | Kidderminster | £40 |
| DY11 | ALL | Stourport | £40 |
| DY14 | ALL | Cleobury Mortimer | £40 |
| DY7 | ALL | Stourbridge | £40 |
| DY8 | ALL | Hagley | £40 |
| DY9 | ALL | Stourbridge | £40 |
| GL18 | ALL | Newent | £40 |
| GL20 | ALL | Tewkesbury | £40 |
| GL50 | ALL | Bishops Cleeve | £40 |
| GL54 | ALL | Stow On The Wold | £40 |
| GL54 | ALL | Bourton On The Water | £40 |
| GL56 | ALL | Morton In Marsh | £40 |
| HR1 | 3,4 | Hereford | £40 |
| HR2 | 6 | Hereford | £40 |
| HR3 | ALL | Hereford | £40 |
| HR4 | ALL | Hereford | £40 |
| HR6 | ALL | Leominster | £40 |
| HR6 | ALL | Leominster | £40 |
| HR9 | ALL | Ross On Wye | £40 |
| HR9 | ALL | Ross On Wye | £40 |
| SY8 | ALL | Ludlow | £40 |
| WV15 | ALL | Bridgenorth | £40 |
| HR5 | ALL | Hereford | £50 |