Top Soil Big Value Bag
Top Soil Big Value Bag
Wish to know when this product is in stock? Leave your email here to get notified.
CLICK & COLLECT

LOCAL DELIVERY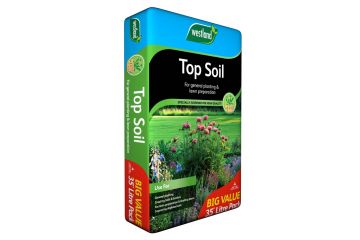 For creating new beds and borders or simply improving existing soil in your garden Westland Top Soil is ideal for a high quality finish. Furthermore, it is perfect for general lawn preparation and repairs such as levelling lawns. Therefore making it the ideal accompaniment for your general garden use. Westland Top Soil is a specially selected rich clay loam soil with a high humus content retaining nutrients and moisture. It is lime and also chalk free, perfect for adding nutrients and organic structure to enhance beds and borders. For general planting & lawn preparation. Specially selected & graded top soil. Perfect for re-invigorating garden soil. Ideal for lawn preparation & levelling.
EAN code

5023377853999

Brand

Bag Size

35L
Reviews for "Top Soil Big Value Bag"
Write a review about "Top Soil Big Value Bag"
We want to know your opinion! Write a review about the product "Top Soil Big Value Bag" and win a National Gardening Gift Voucher of £25 !
Local Delivery Postcodes and Costs
Currently, there is around a 3 day waiting time for local delivery.
| | | | |
| --- | --- | --- | --- |
| WR5 | 1,2,3 | Worcester | £5 |
| WR2 | 4,5,6 | Worcester | £10 |
| WR3 | 7,8 | Worcester | £10 |
| WR4 | 0 | Worcester | £10 |
| WR6 | 5,6 | Worcester | £10 |
| WR8 | 9,10 | Worcester | £10 |
| HR8 | 1,2 | Ledbury | £20 |
| WR10 | 1,2,3 | Pershore | £20 |
| WR11 | 2,3,4 | Evesham | £20 |
| WR12 | 7 | Broadway | £20 |
| WR13 | 5 | Malvern | £20 |
| WR9 | 7,0 | Droitwich | £20 |
| B96 | ALL | Redditch | £30 |
| B97 | ALL | Redditch | £30 |
| B98 | ALL | Redditch | £30 |
| GL18 | ALL | Gloucester | £30 |
| GL19 | ALL | Gloucester | £30 |
| GL2 | ALL | Gloucester | £30 |
| GL20 | ALL | Gloucester | £30 |
| GL3 | ALL | Gloucester | £30 |
| GL4 | ALL | Gloucester | £30 |
| GL51 | ALL | Cheltenham | £30 |
| GL52 | ALL | Cheltenham | £30 |
| GL54 | 5 | Cheltenham | £30 |
| HR7 | ALL | Bromyard | £30 |
| WR15 | 8 | Tenbury Wells | £30 |
| B49 | ALL | Alcester | £40 |
| B60 | ALL | Bromsgrove | £40 |
| B61 | ALL | Bromsgrove | £40 |
| B62 | ALL | Hagley | £40 |
| B62 | ALL | Halesowen | £40 |
| B90 | ALL | Solihull | £40 |
| B91 | ALL | Solihull | £40 |
| B92 | ALL | Solihull | £40 |
| B93 | ALL | Solihull | £40 |
| B94 | ALL | Solihull | £40 |
| CV32 | ALL | Warwick | £40 |
| CV33 | ALL | Warwick | £40 |
| CV34 | ALL | Warwick | £40 |
| CV35 | ALL | Warwick | £40 |
| CV37 | ALL | Stratford Upon Avon | £40 |
| DY10 | ALL | Kidderminster | £40 |
| DY11 | ALL | Stourport | £40 |
| DY14 | ALL | Cleobury Mortimer | £40 |
| DY7 | ALL | Stourbridge | £40 |
| DY8 | ALL | Hagley | £40 |
| DY9 | ALL | Stourbridge | £40 |
| GL18 | ALL | Newent | £40 |
| GL20 | ALL | Tewkesbury | £40 |
| GL50 | ALL | Bishops Cleeve | £40 |
| GL54 | ALL | Stow On The Wold | £40 |
| GL54 | ALL | Bourton On The Water | £40 |
| GL56 | ALL | Morton In Marsh | £40 |
| HR1 | 3,4 | Hereford | £40 |
| HR2 | 6 | Hereford | £40 |
| HR3 | ALL | Hereford | £40 |
| HR4 | ALL | Hereford | £40 |
| HR6 | ALL | Leominster | £40 |
| HR6 | ALL | Leominster | £40 |
| HR9 | ALL | Ross On Wye | £40 |
| HR9 | ALL | Ross On Wye | £40 |
| SY8 | ALL | Ludlow | £40 |
| WV15 | ALL | Bridgenorth | £40 |
| HR5 | ALL | Hereford | £50 |